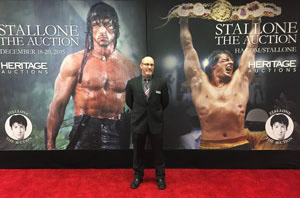 I worked with Michael Puttonen at Heritage Auctions for seven years and came to know him as an Art Director with the creativity, passion and outright drive to deliver the best possible product. The many catalogs and magazines he produced in this period bear expert testimony to this. Besides being a pro at work, Michael is also a professional artist, one who actively pursues his various outlets whenever possible. He brings this keen artistic sensibility to his work, allowing for an easy dialogue between business and art, often with stunning results.
Noah Fleisher
Director of Corporate Communications
I had the pleasure of working with Michael Puttonen at Heritage Auctions for over 11 years in his position as a Graphic Designer and Art Director. We collaborated on a wide range of marketing materials including newsprint and glossy publication ads to luxury brochures to our in house publication
The Intelligent Collector
. Michael always delivered material above and beyond expectations. He took the time to understand each of our 40 in-house clients, their expectations and their customers. In addition to his talents as a Graphic Designer, Michael provided excellent input on text and copy which proved invaluable. I could always count on Michael to give 110% and deliver an excellent final product.
Cindy Brenner
Marketing Project Manager

I can attest to Michael's excellent art direction and graphic design skills. When he and I worked together at Heritage Auctions, he created a number of beautifully laid-out catalogues that definitely aided in successful auctions.
Margaret Barrett
Entertainment Memorabilia Specialist

I had the pleasure of working with Michael Puttonen for over ten years in my position as an Auction Director with Heritage. Michael was the art director on a number of my catalogs and I found him to the very best at what he does. No one could compare to his creativity, precision and dedication to producing the best product in a timely manner. You could not go wrong by engaging Michael to work with you in your creative design projects. He is an A+ in all respects professionally.
Grey Smith
Director of Heritage Vintage Poster Auctions
Michael is an outstanding creative blessed with an unusual degree of patience to match his artistic range. I worked with him for years on catalog, ad and marketing production as an internal client...it was always a pleasure.
Jared Green
President and Co-Founder at BudStraps
I had the pleasure of turning over a number of my client design projects at Metropolitan Press to Michael. His artistic talent, attention to detail and years of experience in his profession always raised our in-house design capabilities to new levels.

Mark Pollak
Account Manager

Michael Puttonen is an amazingly gifted individual. I head a literary arts agency that works with creative individuals all day long, 365 days a year. Without hesitation I can say that he is one of the most creative individuals I've ever met. Additionally, he approaches projects with an inborn determination and self-discipline one rarely sees in the arts.

We first met Michael when he was running an evening poetry study group he'd founded. After attending a few evenings, The Writer's Garret partnered with him, as we recognized his reliability and devotion to craft.

From that point on, we learned that Michael not only had an astute mind for critical thought, but was an excellent wordsmith. My late husband, former head of SMU's Creative Writing Program and 2003-04 Poet Laureate of Texas, found Michael's poetry to be remarkable, showing a unique eye and flair for language, and voicing a unusual perspective. He appreciated Michael's work so much that he volunteered to mentor him, one-on-one.

About this time, we realized that Michael's ability to "show, not tell" was actually rooted in a keen visual artistry. Turns out, he was a graphic designer, photographer, and layout artist—not to mention, a generous soul who helped us with our nationally recognized literary magazine with the largest circulation of any in the country.

Michael designed our wonderful logo and proceeded to layout numerous issues. Each showed a great pairing of words and images, verve and fun, and yet elevated and educated when needed, perfectly matching our mission.

We then hired him for multiple brochures, posters, flyers, and more. When the opportunity with Heritage opened up, we recommended him, as they have been long-term supporters of our work, and we felt a synergy. We were happy that resulted in a long-term working relationship.

Others with whom we work at The Writer's Garret, seeing his terrific skills, then also asked him to help with book-cover designs, all of which have filled us with admiration over the years. We found ourselves wondering, "What can't Michael do?"

Bottom line: Michael Puttonen is uniquely gifted with language, critical thought, visual and graphic abilities, and a sensibility unlike that of anyone else. I highly recommend Michael's many skills to anyone anywhere. Truly, he is one talented soul.
Thea Temple
Executive Director at The Writer's Garret
I have known Michael for fifteen years. During that time, I have visited Michael's personal extensively equipped digital arts studio, where I watched him work on exciting new visual design projects, and I've talked to him in dozens of meetings about his ideas on art, creativity and composition. I've also studied hundreds of Michael's art photographs and dozens of his book, periodical and web designs. The evidence is clear: Michael is a brilliant and skilled designer, photographer and artist with a sophisticated understanding of visual aesthetics and composition. He can quickly develop an interesting and innovative design that works, and he can also explain why it works and what the production trade-offs are in a way that you can easily understand. I am happy to recommend Michael for any web design, print design, or photography job. He's the best of the best.
Joe Ahearn
Information Professional